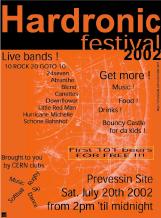 July 20th , on the terrace of Restaurant 3, CERN Prevessin site
CERN HARDRONIC FESTIVAL - Le retour!
Barbecue - Bouncy Castle - Bar
and above all Live Music:
14h00 Downflower
14h45 10 ROCK 20 GOTO 10
16h00 Absinthe
17h15 Hurricane Michelle
18h30 Der Schöne Bahnhof
19h45 Blend
21h00 Canettes
22h15 24seven
23h15 Little Red Man
To encourage the early audience, the first 101 drinks will be FREE!!!